Dark Romance: The Monster Within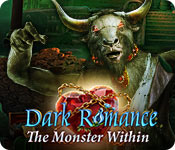 Domini Games, creators of the Enchanted Kingdom series, present another romantic tale in their classic Dark Romance series! Your beloved Sybil receives a stunning painted portrait of herself, but something is wrong. The painting is slowly transforming into a monster, and Sybil is changing with it! Someone is out for revenge against you and your closest friends. You and Sybil must work together to uncover the culprit and find a cure, before she becomes a monster permanently! Solve puzzles and uncover clues that will reveal the villain behind this scheme in this charming hidden-object puzzle adventure game!
Check out our Blog Walkthrough
For a more in depth experience, check out the Collector's Edition
Dark Romance: The Monster Within is free to download and play. After you download Dark Romance: The Monster Within you have 1 trial hour to decide whether you like it or not. You can buy Dark Romance: The Monster Within online right away, instantly and securely.
Mysterious portraits are causing their subjects to transform into monsters!